February 25, 2018
I finished a book! FINALLY!
Believe it or not, Carnal Hearts will relesase on Tuesday, February 27, 2018. If you pre-ordered it, please be aware that Amazon screwed up so I had to cancel the pre-order yesterday and just upload the final version on Monday. I apologize to those of you who have to order it twice.
Also, I'm still working on FrankenDom's Monster, and it WILL be out before the Romantic Times convention in Reno this coming May. It has to--I already bought the promotional rulers. Stay tuned for details!
Robin

Romantic Times Booklovers Convention May 15-20, 2018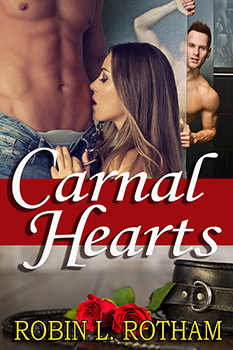 December 20, 2014 » A Carnal Christmas released!
February 25, 2014 » Amorous Overnight's releases at Samhain!
November 19, 2013 » Not So Over Eli releases!
October 7, 2013 » Amorous Overnight sold to Samhain!
April 23, 2013 » FrankenDom releases at Samhain!
January 11, 2013 » FrankenDom sold to Samhain!
December 15, 2012 » Not So Tiny Tim releases!
October 29, 2012 » FrankenDom indy release!
August 11, 2011 » Carnal Compromise hits #1 on Samhain Publishing's bestseller list!
August 9, 2011 » Carnal Compromise releases at Samhain Publishing!