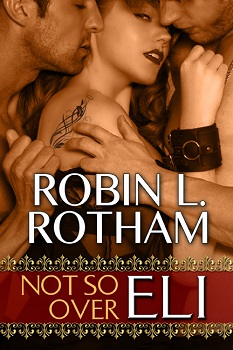 Part of the Midnight Ink Boxed Set
» Reviews «
Top Pick! 5 Stars! "Oh my God!!! What a great box set. Complex and multifaceted, these stories aren't a simple walk in the park and fall in love. Each story is as unique as its author and yet they mesh together into a very unique set of stories. A must read for anyone who loves a good contemporary romance." ~Terri at Night Owl Reviews
5 Stars! About Not So Over Eli: "Robin L. Rotham has NEVER disappointed when it comes to writing this genre. So if this is your first foray into it trust me she writes these scenes with such emotion you feel them coming off the pages. First love, new love, second chance love all rolled into one." ~Shey at Guilty Pleasures Book Reviews
» Short Blurb «
Paramedic Bart "Tank" Rigger finally has the life he wants rather than the one his father dictated, thanks to his hot new fiancée Rhonda Giannetti. But a whirlwind trip to New Orleans puts their relationship at risk when he's forced to confront unresolved feelings for his first love, tattoo artist Elijah Bell.
» Midnight Ink «
One tattoo shop in one infamous city sets the stage for 8 stories about resolutions, kink, love and ink. Get ready to let the good times roll!
» Excerpt «
Rhonda's heart gave a breathless jerk as everything in her low belly went soft and hot. God damn, Elijah Bell was sexy. She'd always been a sucker for tats, and Eli's left arm was inked all the way down to his fingertips. That, combined with his thick Cajun accent, dark good looks and strong, lean body, made him even more compelling in person than he'd been on Skype.
As if all that weren't enough, his unyielding pose and the way he skewered her with those blue-hazel eyes made her feel as though she were standing in front of her stern-but-handsome Catholic school principal again, being reprimanded for wearing hip-huggers to class right before she was sent home to change.
She was reacting now exactly the same way she had then, only this time the man staring holes through her spoke with a deep, accented voice that could make even the nuns fan themselves—and she wore considerably less underwear to soak up the evidence.
Gay, Rhonda, the man is gay. He was Bart's lover, remember?
Eli crooked a sleek black brow at her. "Well, whatchu got to say, Miz Rhonda? I don't got all night."
Rhonda very nearly squirmed at the heat trickling through her. Ooh, this was bad—time to take control of the situation before she made a fool of herself.
Crossing her own arms, she arched a brow back at him. "Why don't you tell me what went on between you and Bart back in college."
He scowled. "That old dog won't hunt with me, teefee, now talk. Or do I need to turn you over my knee and administer a little encouragement?"
"Just try it," she dared.
There was a glint in his eye when he shook his head. "You don' wanna go there with me, ma chère, you really don't."
Oh, she did, she really did. Her heart was pounding, and her nipples and clit tingled in anticipation. Damn, damn, damn!
"Aren't you gay?" she asked in a breathy tone.
He grinned. "I ain't too picky either way."
Oh boy, Eli was bi? Why hadn't Bart mentioned that little detail?
The doorknob rattled. "Eli? Rhonda?" Bart gave the door a couple of sharp raps. "Open up."
"Laissez les bon temps rouler," Eli said with a sardonic look before reaching behind him to open the door.
Relieved and yet damnably disappointed her time alone with Eli was over, she gave an exaggerated sigh. "Eli, how many times do I have to tell you I don't speak French?" When Bart walked in accompanied by the muffled strains of "Cherry Pie," she laid her hand on his arm. "I'm glad you're here, honey. I need a translator."
The dark promise of retribution in Eli's smile sent another wave of heat through her.
"I don't speak French either," Bart said, "but that last was 'Let the good times roll.' He used to say that all the time." Then he leveled a sharp look at Eli. "The fuck, dude? Why'd you lock the door?"
"Same reason I'm lockin' it now, so's I can have some privacy while I find out why y'all are here." Eli pushed the door shut and locked it with a quiet click, shutting out the music along with the rest of the world before facing them. "Your fiancée ain't been too forthcoming, cher. Perhaps you'd care to enlighten me."