January 13, 2015
Well, I did it--got the farm books done and celebrated Christmas, and now we're into the new year already. In a burst of energy a couple of months ago, I even made files for this year so I'm basically all caught up for the moment. Which means it's time to dig in to Emilie Overnight with a vengeance. I'll be in the writing cave for the next couple of months so don't expect to see much of me.
In other news, A Carnal Christmas hit both All Romance E-books' bestseller list and Amazon's Holiday bestseller list, topping out around #5 in the latter. So thank you ALL for your enthusiastic response! I cried a lot of tears over that story, and not because it was hard to write—I just love the characters that much. :)
A Carnal Prologue (to A Carnal Christmas) is still available as a FREE READ, right here on my website as a PDF download.
And finally, Amorous Overnight is releasing in print on February 25, so I've got a contest up on Goodreads right now. I'll be giving away TEN print copies, autographed on request, so get yourself entered! Details are on my Contest page!
Keep warm, and I'll see you in March (hopefully with a completed Aliens manuscript)!
Robin

February 21, 2015 » Signing at Wild Wicked Weekend in San Antonio
April 25, 2015 » Signing at Bondage Expo Dallas in Dallas
May 12-17, 2015 » Signing at RT Booklover's Convention in Dallas
August 23, 2014 » Signing at the BDSM for Writers Conference in New York City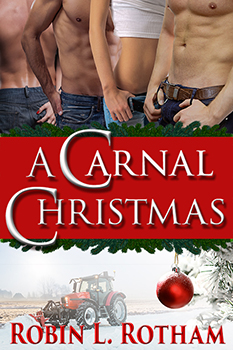 December 20, 2014 » A Carnal Christmas released!
February 25, 2014 » Amorous Overnight's releases at Samhain!
November 19, 2013 » Not So Over Eli releases!
October 7, 2013 » Amorous Overnight sold to Samhain!
April 23, 2013 » FrankenDom releases at Samhain!
January 11, 2013 » FrankenDom sold to Samhain!
December 15, 2012 » Not So Tiny Tim releases!
October 29, 2012 » FrankenDom indy release!
August 11, 2011 » Carnal Compromise hits #1 on Samhain Publishing's bestseller list!
August 9, 2011 » Carnal Compromise releases at Samhain Publishing!
June 24, 2009 » Enemy Overnight releases at EC!
February, 2009 » BIG Temptation receives an RRT Erotic La Grande Morte award!
January 25, 2009 » BIG Temptation receives a JERR Gold Star Award!
December 17, 2008 » Ellora's Cave releases BIG Temptation!