September 22, 2015
It's been way too long since my last update, but life got pretty crazy again this year and once again family has had to take priority over my writing. On the good news front, my firstborn started his first semester at the University of Nebraska last month and so far he's loving it. (I knew he would!) But I haven't had the chance to develop Empty Nest Syndrome yet because my 16yo nephew moved in with us in May, and unlike my son, he isn't easygoing or self-managing. Lots of long stories there, but suffice to say, it's been a very busy, stressful few months since he moved in.
On the bad news front, my sister has been losing her shit since last October, which is why my nephew is living with us now. Additionally, our dad died in July, which only added to her problems. She's finally pulling herself together and has about five weeks of sobriety, so keep your fingers crossed that this trend continues. She still has a long row to hoe, and I doubt she and my nephew will ever be able to live together again, but it would be nice if they could have at least a cordial relationship.
Right now I'm about 50K into Jordan's Seduction (the sequel to FrankenDom), so please send lots of creative vibes my way. I really need to build some momentum to crank out the final 20K. Since harvest just started yesterday, I might actually have some time alone to get it done.
Oh! And fellow Smutketeer Eden Bradley and I will be in Las Vegas from September 30 to October 5 for the Hot Mojave Knights Reader Event! If you're in the area, you should attend--or at least come for the book signing on Saturday, October 3rd from 1pm - 3pm at Sunset Station. While we're in Las Vegas, our other Smutketeer, R.G. Alexander, will be joining us for a site inspection at the Rio Hotel for our Cirque du Punk Ball at the Romantic Times Booklovers Convention next April. That's shaping up to be one hell of a party, so if you haven't signed up for RT2016 yet, get yourself over there and do it before they run out of space. Hope to see you there!
Robin

October 3, 2015 » Signing at Hot Mojave Knights Reader Event in Las Vegas
April 11, 2016 » Signing at Romantic Times Booklovers Convention in Las Vegas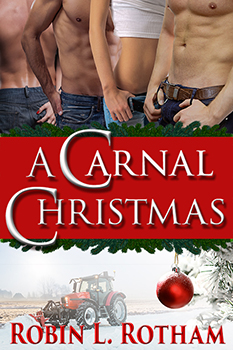 December 20, 2014 » A Carnal Christmas released!
February 25, 2014 » Amorous Overnight's releases at Samhain!
November 19, 2013 » Not So Over Eli releases!
October 7, 2013 » Amorous Overnight sold to Samhain!
April 23, 2013 » FrankenDom releases at Samhain!
January 11, 2013 » FrankenDom sold to Samhain!
December 15, 2012 » Not So Tiny Tim releases!
October 29, 2012 » FrankenDom indy release!
August 11, 2011 » Carnal Compromise hits #1 on Samhain Publishing's bestseller list!
August 9, 2011 » Carnal Compromise releases at Samhain Publishing!