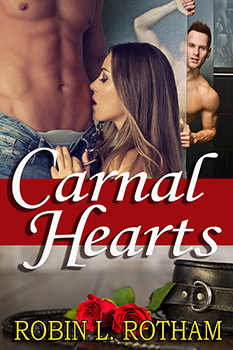 Carnal Harvest Series Book 4
» Blurb «
After her first foray into long-distance D/s ends in heartbreak, widow Libby Fisher needs a rebound Dom. Who better than Dr. Ryan Stivers, the old college friend who introduced her to kink, and who just happens to need a date for the weekend?

It's a perfect plan—until Libby's former Sir turns up at the party…

Reader Advisory: Contains a Dom with a chip on his shoulder, a doctor who's determined to perform a chip-ectomy, and a sub in need of sexual healing from both of them—at the same time. Because who doesn't need to be the center in that sandwich?
» Carnal Hearts Excerpt «
Well, this could be interesting," Ryan said as he pulled their rental SUV onto the concrete pad in front the garage. "Dietz is here too."
"Who's Dietz and why's he so interesting?" she asked as she texted Wylie that they'd arrived in one piece. She only felt a little guilty when Wylie immediately texted back a sunglasses emoji and said Have fun with your friends! They'd all be her friends by the time she left, right?
"Seth Dietz is a perpetually cranky farm hand who works for Brent. He stayed with my parents a few years ago after he lost his foot in a combine accident and now he's part of the family."
"And…?"
"And he's a total voyeur," Ryan said with a sidelong grin as he turned off the engine.
"How do you know?"
"Oh, I have my ways. I'm thinking we should take pity on him and give him something to watch."
Libby gave an exaggerated gasp. "What kind of girl do you think I am?"
"Guess we'll find out, won't we?"
Libby stared at him, her heartbeat going thuddy. "Are you serious?"
His grin widened. "You're so damn easy."
"You dirtbag," she said, smacking him on the arm. "I told you to save the mind fucks for when we're in a scene."
"Why, Libby Fisher, if I didn't know better, I'd say you were disappointed."
She unbuckled her belt, thanking God it was too dark for him to see the blush burning her cheeks and ears. "You don't know when to stop, do you?"
"I'll stop when I hear your safe word." He opened his car door, letting in a flood of cold air. "Ready to venture into Polyville?"
"Way past ready," she said as she got out.
"Leave the bags. I'll get them after we've got all the hugging out of the way."
He waited while she walked around the front of the car and then held her hand as they walked up the steps onto the porch. Through the wide picture window, she could see a blonde woman sitting in a recliner near the fireplace, cuddling a little brown-haired girl on her lap. From Ryan's descriptions, she knew they were Mandy and Annabel. It was an intimate scene, and the fact that Libby knew so much about them before even meeting them suddenly made her feel like the worst kind of imposter.
"Maybe this is a bad idea," she said, falling back.
Ryan turned and took her face in his hands. "No reason to be nervous, Libs. They're all farmers. Hell, you'll probably fit into my family better than I do."
"I'm not supposed to fit into your family, Ryan, and I really don't want to mislead them."
"We won't be misleading anybody, subbie girl. This is all you have to think about—you're mine for the weekend. And after I introduce you to everyone, I'm going to plead 'long travel day' and take you to straight to the dungeon prove it."
Suddenly breathless, she looked away. "Not helping."
"Oh really? Well how about this." He dropped his hands and took a step back. "Take off your panties."
Her eyes flew to his. "What?"
"I said, take off your panties, Libby. Now."