» Reviews and Honors «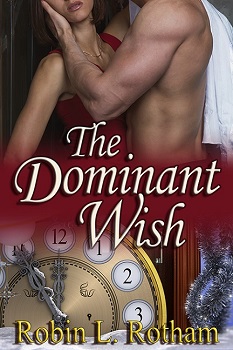 ** THE DOMINANT WISH is a 2008 CAPA Nominee at The Romance Studio! **
Hot, Hot, Hot! THE DOMINANT WISH is beyond a doubt a sizzling read that is a perfect blend of sassy and sexy. This is the kind of story that will have you sweating long after the summer months have ended. The spicy storyline and the unbelievable connection between these three people heats up the pages to the point where you just want to keep reading and going along for the ride. I look forward to whatever Ms. Rotham has in store for us next, because THE DOMINANT WISH was a surefire hit. Kimberly Spinney, Ecataromance
THE DOMINANT WISH is Robin L. Rotham's second release. At only 46 pages, this is a story that will captivate readers and have them wishing for a fairy godmother of their own. Wonderfully written Ms. Rotham, I'll definitely be watching for more of your stories in the future. Chrissy Dionne, Romance Junkies
What a cute short story!!!! Traditionally, I am not a fan of quickies […] Robin Rotham does such a wonderful job with this book, that I might just have to reevaluate my thinking on this. Sarah Silversmith, The Romance Readers Connection
The Dominant Wish by Robin L. Rotham is a fairy tale that will touch your heart, even as it turns up the heat and makes you sweat. Lindy, Two Lips Reviews
Robin Rotham has written a spicy tale of second chances. Grace and Jared are such great characters, I found myself anxiously turning the pages, to find out if they could find their happily ever after or if it was just a one night wish. I would recommend this story to anyone looking for a sexy, hot, fairy tale with an erotic twist. Sandra, The Romance Studio
Robin L. Rotham did a great job and this is worth the read […] it is one that will make you wish for the possibilities. Lena C., Fallen Angel Reviews
This is a charming fairy tale with the perfect structure. The ending couldn't have been more appropriate if it had been gifted to the author by her own fairy godmother. I loved reading The Dominant Wish, and I love how the story reminds me of the magic of having dreams come true. This short story comes highly recommended to all BDSM aficionado/magic reality/fairy tale lovers. I'll be sure to read more by Robin L. Rotham. Maîtresse, Novelspot Book Reviews
» Excerpt «
"Jesus, Grace, are you okay? Talk to me, honey, please!"
The first thing she saw when she opened her eyes was the battered silver pickup with McLain Homes emblazoned on the driver's door. Then she looked up. Jared McLain gazed down at her, his dark blond hair falling over his forehead, his roughhewn face creased with concern, and her heart squeezed painfully before starting to race.
Jared—the love of her life and the irresistibly dominant man she'd run away from. The dominant man who'd been dead for thirty years.
"Jared?" Tears filled her eyes and joy exploded in her chest, bubbling outward until she couldn't draw a breath. If this was a dream, she never wanted to wake up. She reached up and ran trembling fingers over his mouth, biting her lip as he kissed the tips. "You're really here?"
"Of course I'm really here!" He shifted her on his lap until she was sitting up. Then he scowled at her. "And I really would have helped you carry in the groceries if you'd called me."
All she could do was stare at his beloved face. She was with Jared!
He waved a hand in front of her. "Earth to Grace—are you sure you're okay? You didn't answer me the first time."
She threw her arms around his neck, knocking him backward onto the ice-slicked sidewalk. "Oh my God, I've missed you so much!" Her tears ran freely as she dropped urgent kisses down his stubbly cheek. Tucking her face into the collar of his flannel shirt, she sucked in the scent of warm, musky morning man and just about had an orgasm.
Jared's laughter set off more sparks in her tummy. Squeezing her against his chest, he rumbled, "You just left an hour ago."
Grace raised her head and looked into his achingly familiar blue eyes. "It was the longest hour of my life," she choked. Her face crumpled before she dropped her forehead onto his collarbone and began to sob.
"Hey, hey," he crooned, stroking her hair as his grip on her tightened. "What's going on, sweetheart? You're not supposed to cry on your birthday."
She gasped and pushed up, blinking down at him again. "It's still my birthday?"
"All day." He wiped under her eye with a tender thumb.
Grace looked at her hands, which rested on shoulders broad and hard from years of construction work. Her age spots and bulging veins were gone, and presumably so were her wrinkles and gray hair. "I'm thirty today."
Her heart thumped when he gave her a sexy grin. "Boy are you ever. You just about wore this old man out this morning." Then he sobered, searching her eyes. "You wanna tell me what this is all about?"
She glanced at her watch. 12:05. "Love them 'til the stroke of midnight." She had less than twelve hours.